Planning a trip? We know the stress that can come from planning a vacation, so we've compiled some of our favorite websites and resources for putting together your next trip. These are all resources that we use and swear by!
We love to help our fellow travelers, so feel free to get in touch with us when planning your next vacation.
Booking Your Flight: The Best Resources for Finding Cheap Flights
Google Flights: Compare flights with the power of Google
It's a no-brainer that Google is a great source for searching for and comparing prices on everything you need for your trip. Google Flights is especially designed for researching airfare for any destination, at any time.
Research basic flights
The most common function is to search for a flight with a specific departure and arrival city with specific dates dates.
For this, simply enter the minimum information required, namely the cities of departure and arrival and the travel dates, and the search starts automatically. The results, however, are presented in a clear manner without any annoying advertisements. The results are sorted with the best flights on top, factoring in things like travel time and layovers as well as price. If you are looking for the cheapest flight, you can easily change the default sorting.
Google offers several flight filters:
# of stops: non stop, 1, or 2 stops
Price: set a maximum price
Airlines: choose to travel with specific loyalty alliances (SkyTeam, Star Alliance …) or select particular airlines
Times: select a time range for your departure and arrival times
More: duration, separate tickets or select a specific airport to connect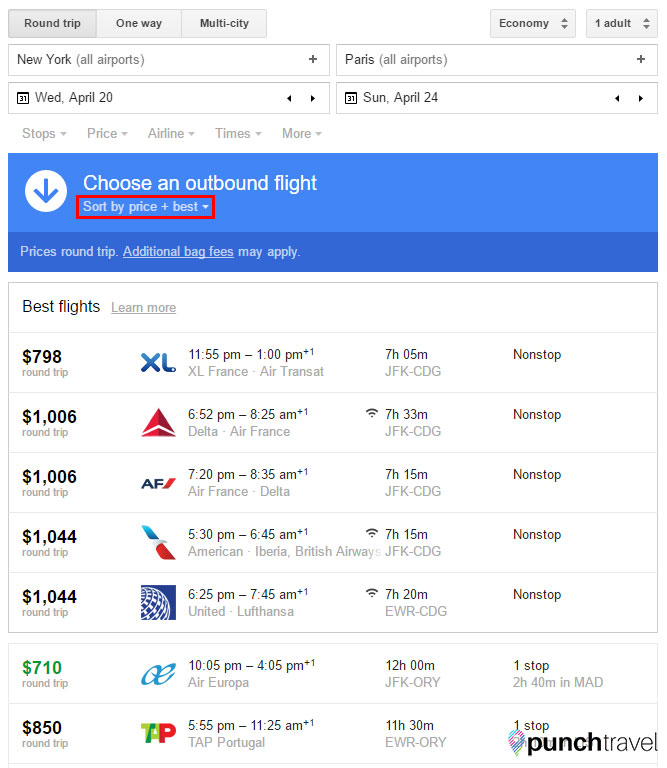 From the displayed results, choose your outbound flight and then Google displays the available return flights. After selecting your flights, you do not book directly through Google. Instead, it provides you with several purchase options, including booking directly with the airline or through travel websites. When prices are similar we recommend booking directly with the company which will allow you in case of problems, to have a better chance of changing or canceling your ticket without additional costs. Travel sites are very good at selling you flights and hotels but once the purchase is made it can be difficult to contact them and make changes.
Advanced flight search…or how to save money!
The best way to reduce the price of a flight is to play with the dates. It is at this moment that the power of Google Flights comes in. If you have some flexibility three options are available to search for a great price. To view these options, start by clicking on the date.
If you want to keep the same number of days for your trip, this option lets you see the prices for the month and manipulate the date of departure or arrival to reduce the price. Google offers an easy color coding to quickly view the best deals. With this option the length of the trip remains fixed. For example if your initial search was for 12 days, if you move up the date of departure, the date of return will also be adjusted to maintain the 12 day trip duration.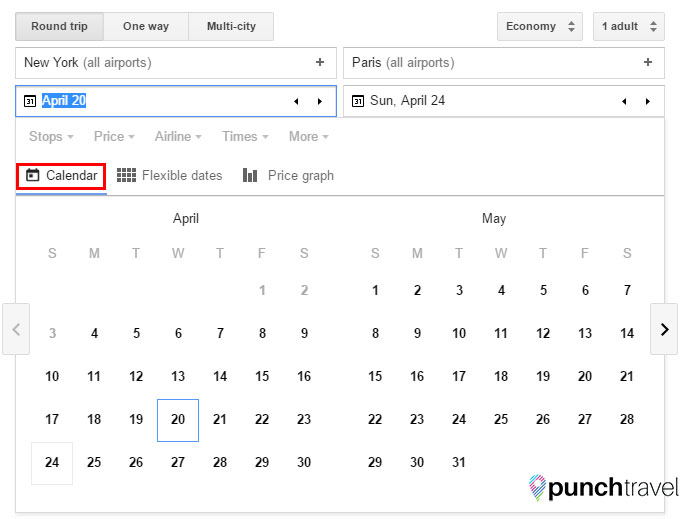 This option allows you to view the month in a grid format and thereby play with the departure date and arrival date to find the best price. Once again the color code is available. With this option the length of stay is not fixed so it is important to pay attention in order to not end up with too long or too short of a trip.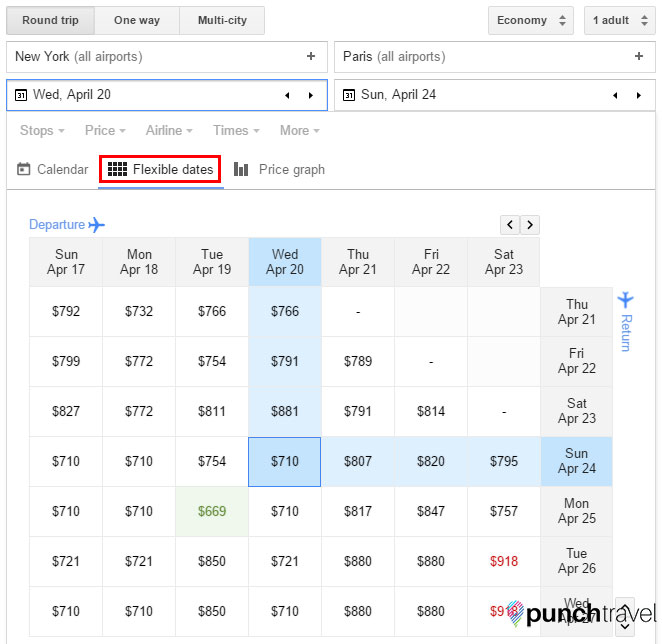 This option is especially interesting for those with the most flexibility. It lets you choose the number of days to stay and browse through the month to find the best price. This way you can, for example, see that prices are higher during school holidays.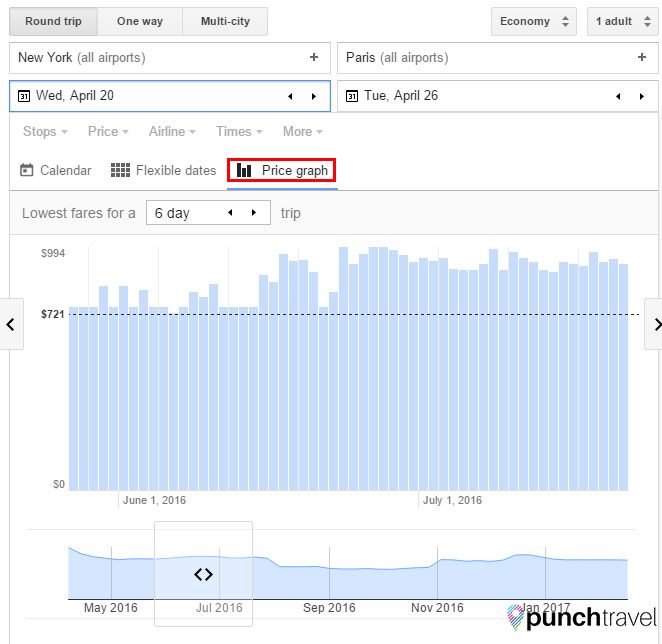 Search by destination…or how to discover new countries
For those of us who are more indecisive, Google Flights offers an interesting and fun option that lets you choose a destination based on various parameters. To do this simply select:
a date or duration
a destination country or continent
an interest: food, island, wildlife …
For example by selecting a week in Asia with an interest in food, Google proposes flights to Shanghai, Beijing, Istanbul, a very interesting concept that allows you to discover new places that you may not immediately think of. Note that Google will also offer hotels in addition to flights when searching for destinations.