New York is known for being a top culinary destination, but its true identity lies in a few simple dishes. Despite their humble beginnings, the five dishes on this list have become a New York City institution. Don't miss the opportunity to experience a part of real New York culture.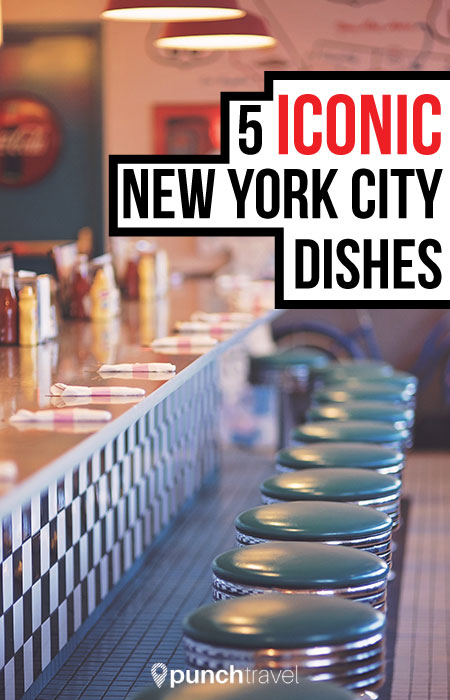 Pizza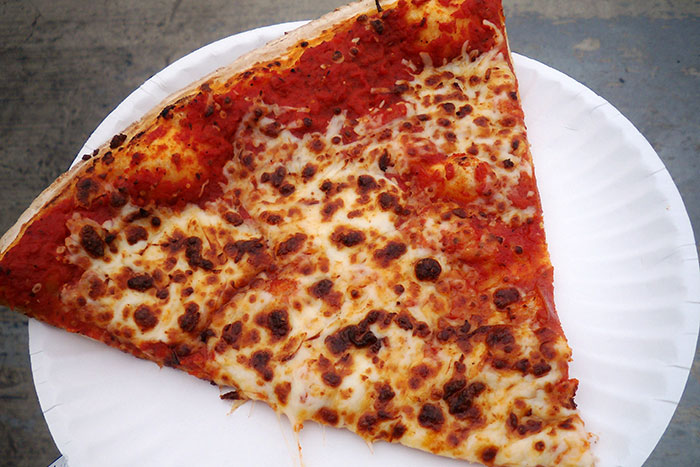 In a constant rivalry with the Chicago deep-dish style pizza, the New York style pizza is the polar opposite. Classic New York style pizza consists of a very thin crust pizza with barely any crust. Slices are the size of your face and served on a paper plate. No need to weigh the pizza down with extraneous toppings – a plain cheese version will do just fine. Eat it standing up in the pizzeria while people watching. Pizza slice prices remain steady over the years at around $2-3 per slice.
Recommended: John's Pizzeria, West Village
Cheesecake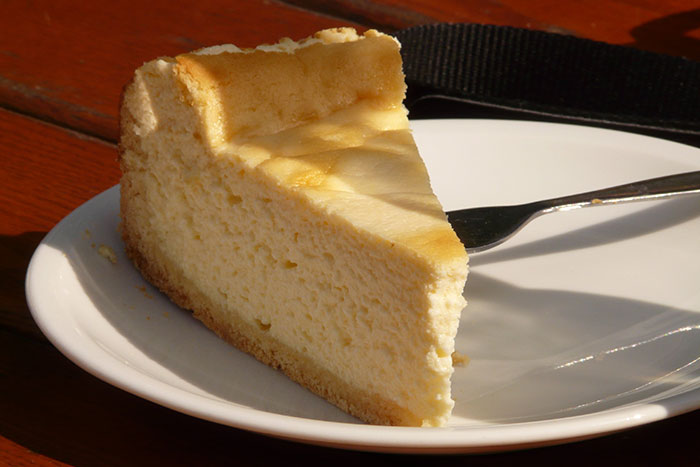 Characterized by its thick, rich texture the New York cheesecake is world-known. It tastes so good because the recipe uses mostly heavy cream or sour cream. The result is a rich, dense cheesecake with a smooth and creamy consistency. The classic plain variety is delicious by itself or get one topped with fresh fruit coulis.
Recommended: Junior's, Downtown Brooklyn and Midtown
Pastrami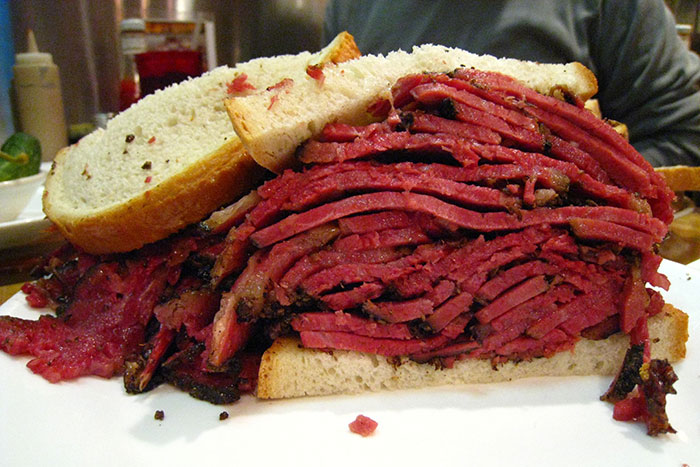 Possibly the most uniquely New York City dish of all is the pastrami sandwich. Its origins come from New York's Jewish delis, but also from local butcher shops and specialty grocery stores. The first pastrami sandwich was created in 1888, and the pastrami sandwich has lived on ever since. The best pastrami meat is made from beef, then brined, dried, seasoned with herbs and spices, and smoked. The result is a flavorful cut of meat, thinly sliced and piled high on top of rye bread. Smother it with mustard and you've got yourself a sandwich!
Recommended: Katz's Delicatessen, Lower East Side
Diner food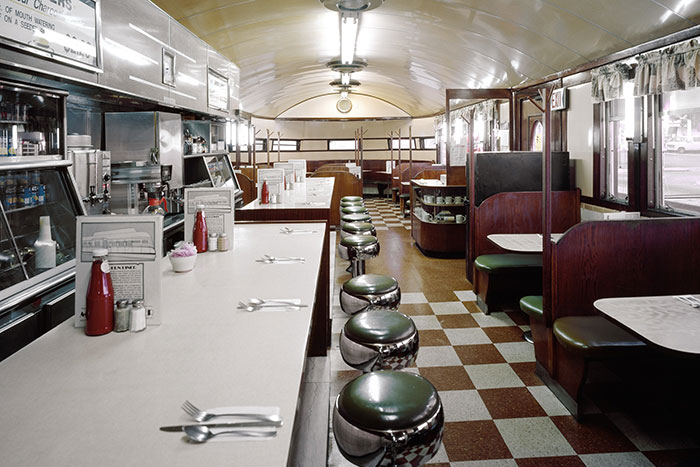 Diner food may not be anything to write home about, but it's more the ambiance than the food that you'll want to go for. You'll recognize a diner by its distinct exterior building style, the long counter with bar stools where customers eat their meals, plastic booths and harsh fluorescent lighting. Diners are usually open 24/7 and always seem to have a menu with 25 different ways of preparing eggs.
Sadly the era of the diner is waning, but there still exists a few classic New York City diners. Visit one before they all disappear!
Recommended: Kellogg's Diner, Williamsburg or Waverly Restaurant, West Village
Hot dog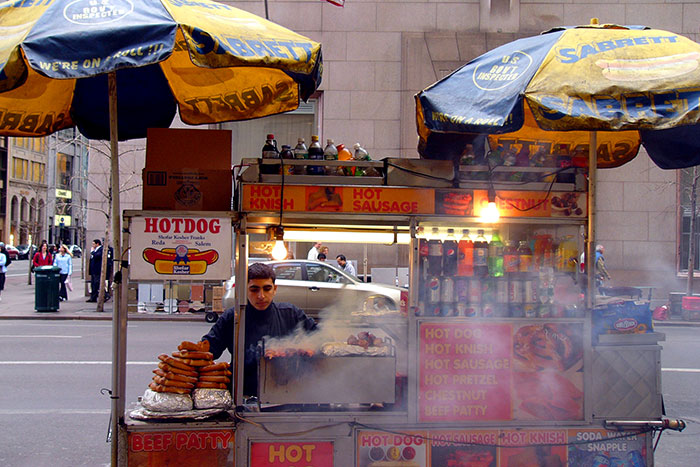 It's not the tastiest food item on this list but it is certainly a novelty that you can only find in New York City. Also known as "street meat" the New York style hot dog is served at small carts found on the street at high traffic tourist locations. Eat if you dare! For a slightly elevated option, go to Gray's Papaya for their juicy hot dog and signature papaya fruit drink.
Recommended: Gray's Papaya, Upper West Side