Falafel sandwiches and shwarma, sounds like your typical late night street food, right?
Think again. Middle Eastern food isn't just to be eaten out of a paper envelope with a plastic fork.
A few steps away from Madison Park is ilili restaurant, a modern Mediterranean restaurant where chef Philippe Massoud elevates traditional Lebanese fare to creative fine dining. Each option on the menu is a reinvention of a classic Middle Eastern dish, beautifully plated and presented in the stylish two-story dining room.
A wide variety of options are available on the Restaurant Week menu
One of the most pleasurable times of the year is NYC Restaurant Week, taking place for 3 weeks every winter and summer. For $29 for lunch or $42 for dinner, savvy diners can enjoy a 3-course meal at one of many top New York restaurants.
A lot of New York Restaurant Week menus skimp on the options, forcing you to choose from a limited menu.
Not so at ilili. Their Restaurant Week menu is extensive and graciously allows you to sample a variety of dishes from their regular menu.
To go along with your meal, the extensive wine list includes several Lebanese wines from Massaya. We selected the 2013 rosé which was just the right combination of crisp and tart to accompany our dinner.
The generous appetizer course was a selection of several classic small plate dishes, each beautifully presented. Of course, we had to have hummus to accompany our meal, and ilili's preparation was topped with fresh olive oil and served with warm, homemade pita bread.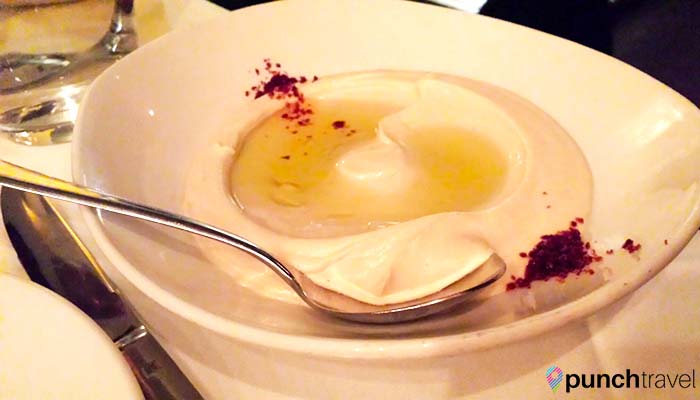 Our next selection was another classic Mediterranean dish, falafel. But instead of the typical round ball that one would assume falafel is always prepared as, this unique rendition came as four perfect falafel cubes of chickpea and fava bean with a sprinkling of diced tomatoes on top with a tahini dipping sauce.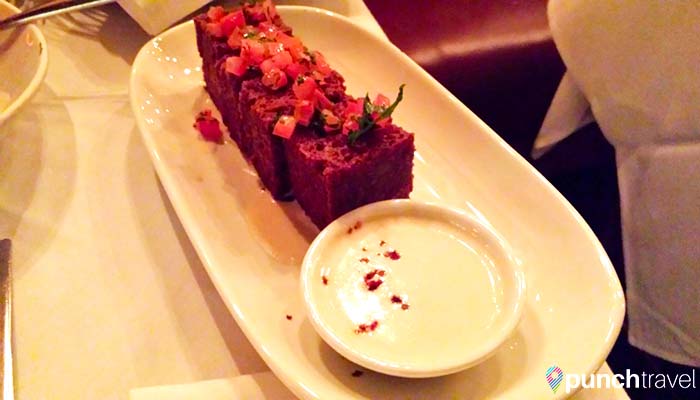 The moussaka was simply prepared and consisted of fresh eggplant, onion, tomato and garlic topped with crunchy julienned radishes.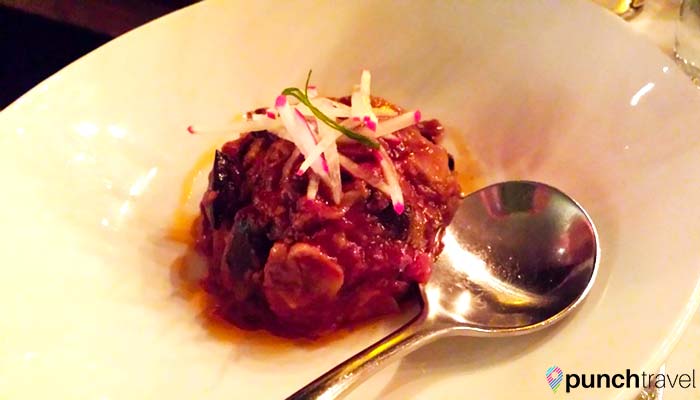 A new dish for me that we also tried was the arnabeet mekleh, lightly fried cauliflower florets served on top of labneh tahini.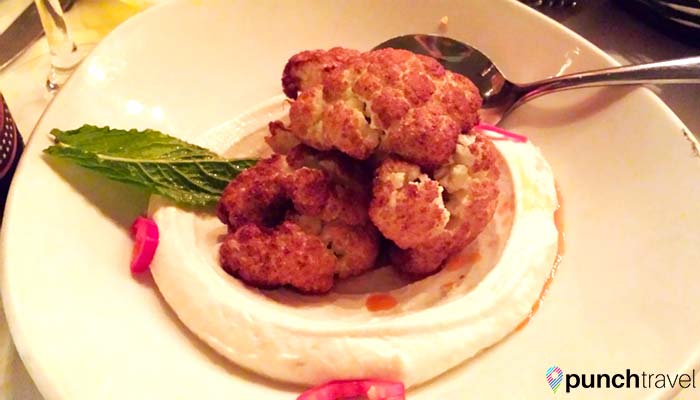 Despite all of that for the first course, I couldn't wait to dig into our main course. I had the lamb makloubeh entree which consisted of tender pieces of lamb, fried eggplant and dirty rice with pistachios, offset with a cool cucumber yogurt. It could only be described as the ultimate luxury comfort food.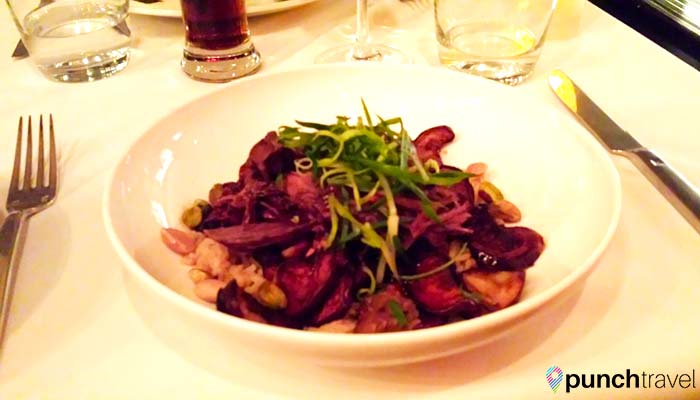 For Matt, the branzino was cooked perfectly with a slightly crispy skin and served with a light, cauliflower puree.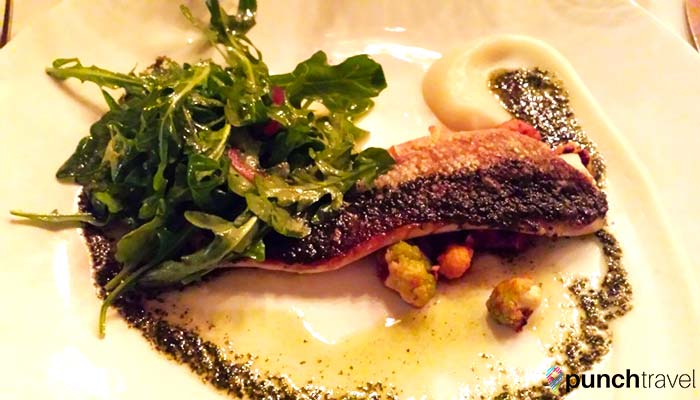 We didn't stop there though. For dessert, we selected two decadent options. I had the surprisingly complex labneh cheesecake. This was no ordinary cheesecake. In addition to the cheesecake being made from labneh and semolina, there were additional components of hibiscus sauce, strawberry rose foam, thai basil gelee and candied rhubarb!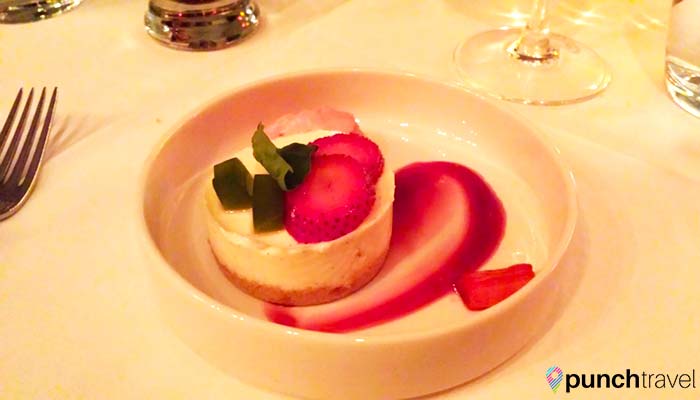 The signature ilili candy bar was also well constructed and complex, with not only chocolate ganache, but also fig caramel, dulce de leche, and two preparations of pistachio.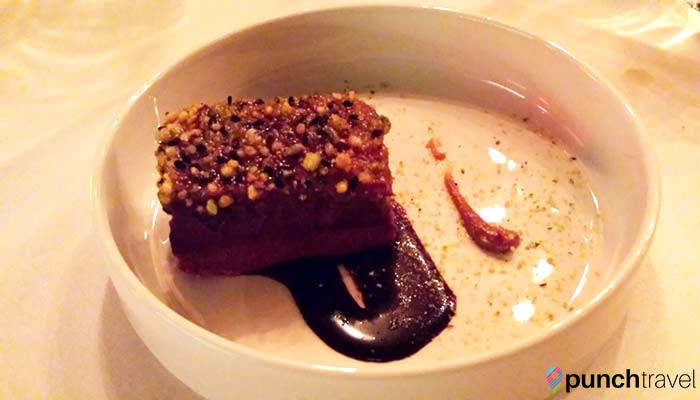 If you are in the Flatiron district, or anywhere even remotely near the Flatiron district, don't miss ilili. The beautifully-presented plates and creative take on Mediterranean food is a feast for your taste buds and your eyes.
ilili 
236 Fifth Avenue (between 27th and 28th)
New York, NY 10001
+1 212 683-2929
Reservations via Open Table