Located on the shores of the English Channel, the city of Brighton and Hove in Sussex, England is a popular seaside resort town visited by locals and tourists alike. Conveniently located only about an hour by train from London, it is a popular day-trip destination for families and those looking to escape the daily grind of the city.
Take advantage of the UK's extensive railway system to travel by train from London to Brighton
The cheapest and quickest way to travel from London to Brighton is to take the train. Great Britain's National Rail system consists of over 30 train operating companies that travel throughout the United Kingdom. Brighton is served by the Southern Railway and trains operate frequently throughout the day. Trains to Brighton depart from stations throughout London, including Blackfriars, Saint Pancras, Victoria and London Bridge.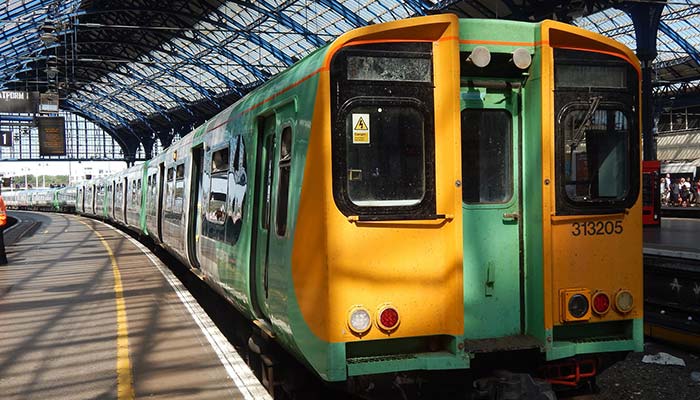 Getting the cheapest train ticket
The cheapest way to travel is with the Super Off Peak ticket, which is permitted for:
travel anytime on weekends and bank holidays, and
travel to Brighton anytime on weekdays as long as you return to London on any train arriving at or after 10:55am.
Tickets are typically £10.60 for a round trip return ticket but if you book far enough in advance, you can find tickets for as low as £10 round trip.
Purchasing your ticket
To save yourself the trip to the train station to purchase your ticket, buy your train tickets online instead. If you are like me, I like to futz around with the schedule until I have the perfect itinerary and have made sure that I have the best price. The Southern Railway website is easy to navigate and tickets can be purchased with any Visa, Visa Debit, MasterCard, MasterCard Debit, Maestro and American Express credit card.
Alternatively, you can also book your tickets over the phone by calling 03451 27 29 20. Just note that they aren't able to send you a confirmation email, so make sure to write down your purchase reference number somewhere where you won't forget it!
Collecting your ticket
If you buy online, you can collect your tickets from any National Rail ticket collection machine about 12 hours after you purchase it or on your day of travel. Be sure to have your confirmation reference number and the credit card you used to make your purchase.
Traveling by train through the English countryside
Imagine lush, green pastures and rolling countryside overlooking the sea – well no, not quite. The journey from London to Brighton takes you through London's suburbs and past the occasional football field but that is about it. There are some nice views coming out of London but after that it is mostly residential suburban neighborhoods.
On the train, the seats are large and comfortable and it is easy to find a seat on the weekends. Plus, it is always a relief to see that each row of seats has an outlet to charge your cell phone which will inevitably drain on your return trip after all the photos you have taken in Brighton.
Arriving in Brighton
Once in Brighton, the train station is located at the top of a hill in the center of town. There are taxi cabs waiting outside of the station as well as public buses but all of Brighton is easily accessible on foot. From the Brighton train station it is only a short 10 minute walk to reach the sea.
To view the vast expanse of water is always a sight to behold but there is more to see in Brighton than the sea. Check out my post on what to do in Brighton.