New Orleans is one of my favorite places to visit in the United States.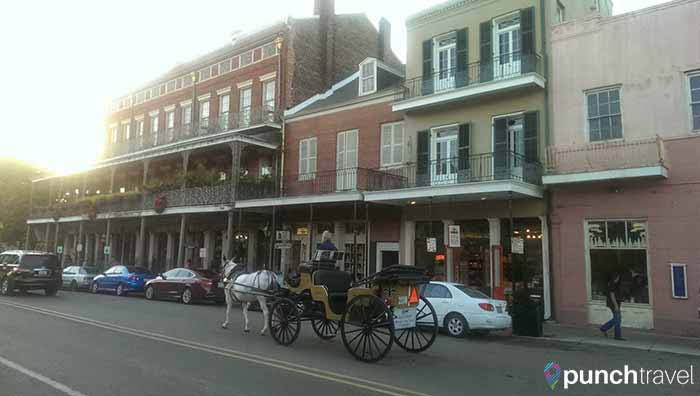 Its unique culture is a blend of influences from its past as a French territory and Afro-Caribbean culture brought over from the slave trade.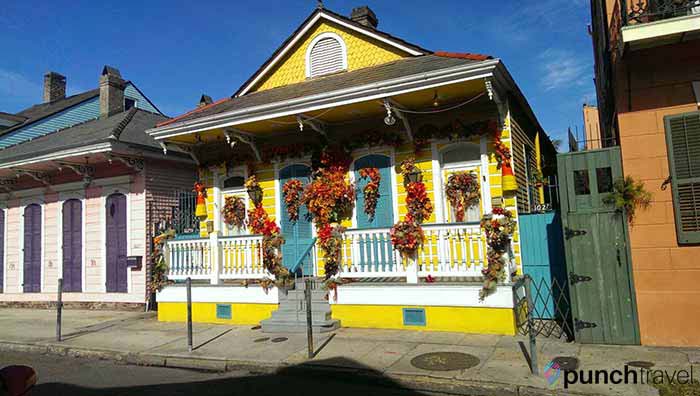 Today, these influences are still present throughout the streets of the Big Easy through the cuisine, music and architecture.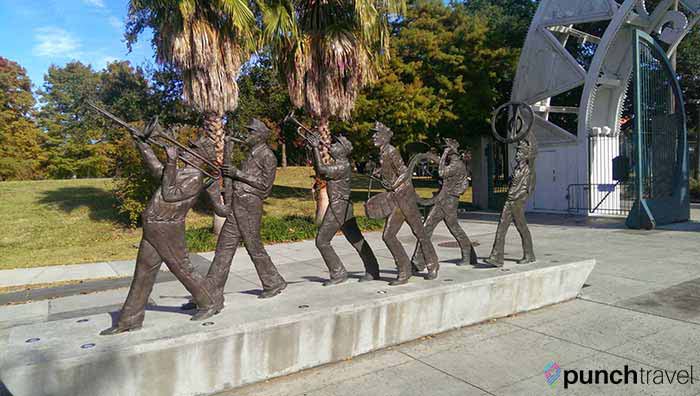 Though New Orleans has garnered quite a reputation for its debaucherous Mardi Gras festivities, it is more than just beads and boobs.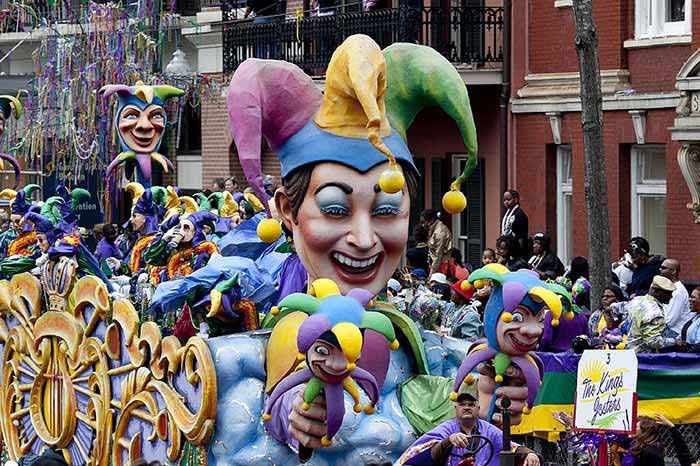 It is a city rich in culture, cuisine and history with much to see and do.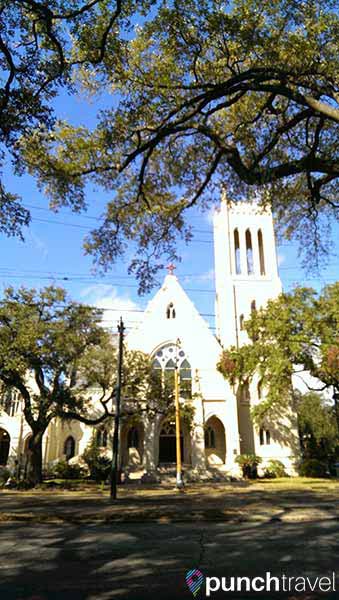 View New Orleans Itinerary in Google Maps
Friday Evening
Prepare to go on a culinary scavenger hunt in New Orleans. Your first stop will be for the legendary Oysters Rockefeller at Antoine's. Created in 1899 by the son of the restaurant's founder, the signature dish consists of oysters baked on the half shell and topped with a secret blend of vegetables, butter and breadcrumbs.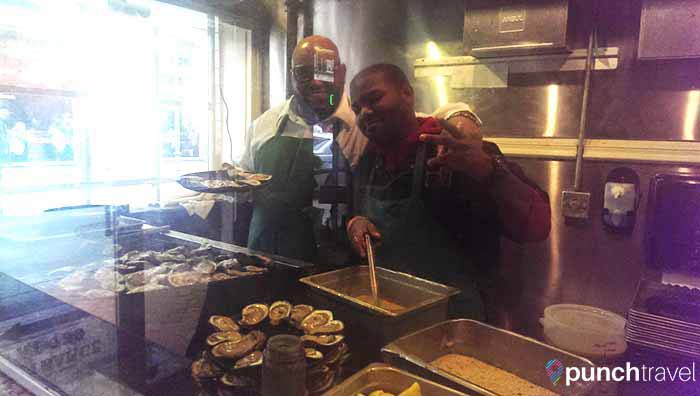 Antoine's
713 St Louis St
Next go get some gumbo at the aptly named, Gumbo Shop. Gumbo is a rice stew dish typically with sausage, bell peppers, onions and celery in a rich dark roux. At the Gumbo Shop, their signature dish does not disappoint. Top off your meal with some of their impeccable bread pudding with whiskey sauce.
Gumbo Shop
630 St Peter St
End the evening with a night of jazz music on Frenchmen street. Located in a lopsided clapboard building, the Spotted Cat Music Club hosts live jazz every night. Step inside the dark room and you are immediately greeted by musicians jamming on trumpets, stand-up bass and drums. Grab a beer in the back and settle in with the locals for a night of good music and good company.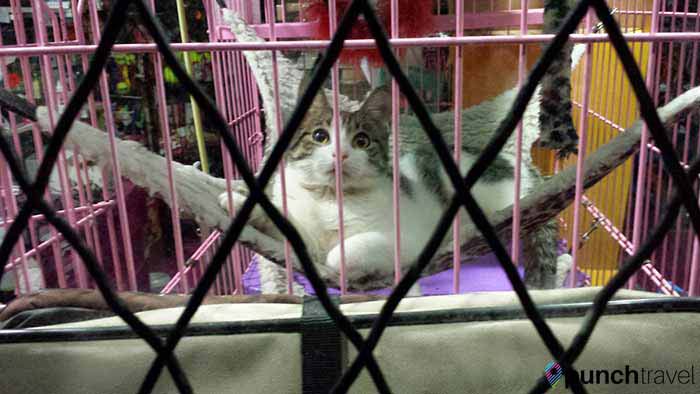 Spotted Cat Music Club
623 Frenchmen St
Saturday Morning
Head to the Treme neighborhood east of the French Quarter this morning. Grab a coffee and pain perdu at Mister Gregory's and then wander around in Louis Armstrong Park.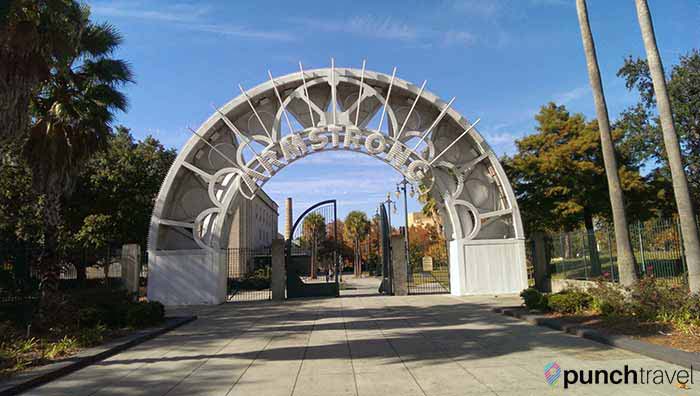 This 32 acre park features gardens, sculptures, plenty of green space and a famous statue of its namesake.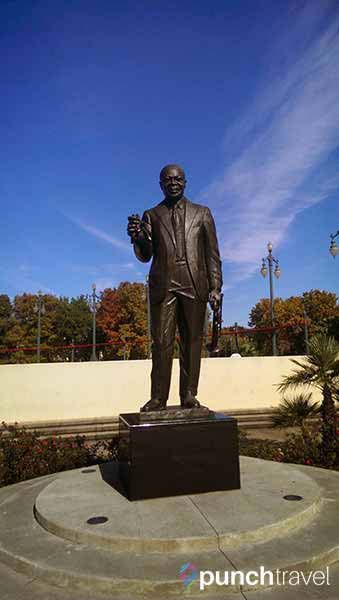 Occasionally concerts and other events are held in the park and auditorium.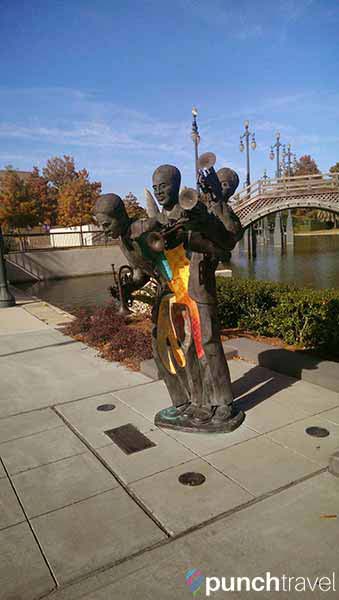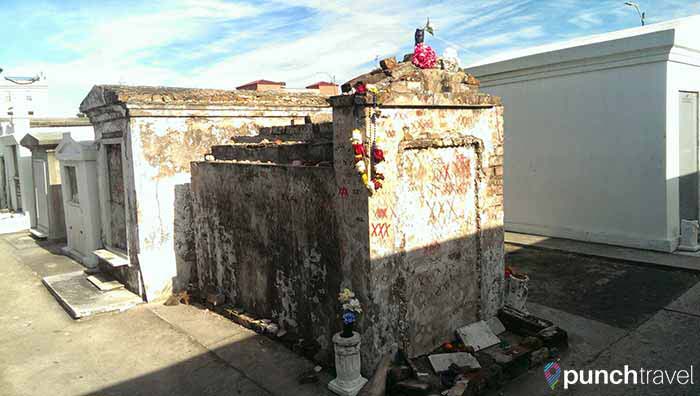 Mister Gregory's
806 N Rampart St
Louis Armstrong Park
701 N Rampart St
Saturday Afternoon
Partake in a crawfish boil at any number of restaurants in New Orleans, but our favorite is Bayou Beer Garden in Mid City. For $12, you can get a heaping pile of crawfish, with potatoes, corn and sausage. The crawfish has just the right amount of spice, and is super flavorful.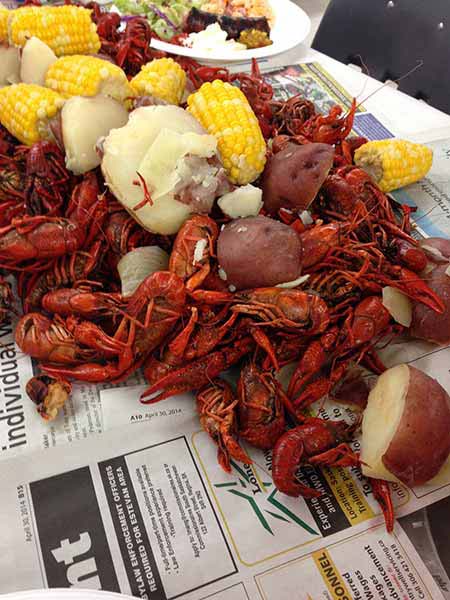 The restaurant also has an extensive beer garden with a great selection of craft beer and cider. The outdoor patio is ready for any type of weather. Some areas are covered and there are heaters available as well as fans, and a few TVs too. You can easily spend the afternoon here relaxing the day away, watching football or just hanging out.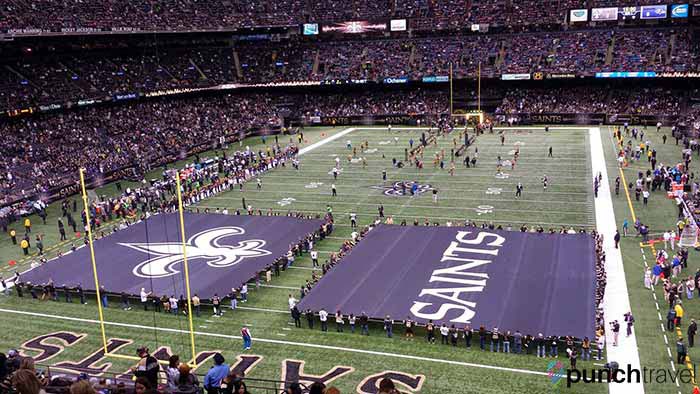 Bayou Beer Garden
326 N Jefferson Davis Pkwy
If there is one place you must eat at, it's the historic and legendary Cafe du Monde, home of the world-famous beignets. Located across from Jackson Square, you can find it by its welcoming green and white awnings and the crowd of people lined up along the sidewalk.
Though the lines can be daunting, don't let them discourage you. Seating is by self-service. Scope out an empty seat for yourself and the savvy staff will be by soon enough to clear the table and take your order. Sit-down service is often faster than the takeout counter!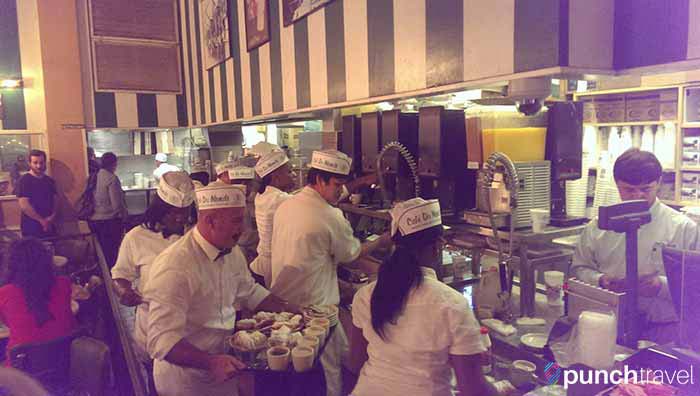 Each order contains three fluffy beignets. The beignets are served fresh from the kitchen, covered with a heap of powdered sugar.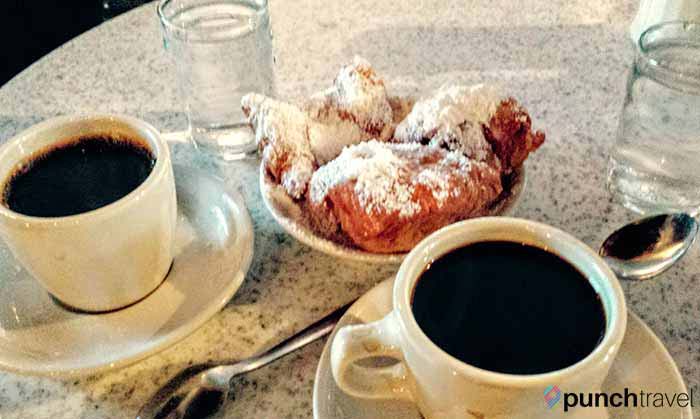 Wash them down with their signature cafe au lait or regular coffee and chicory. Once your food is delivered, pay cash directly to your server and you're on your way!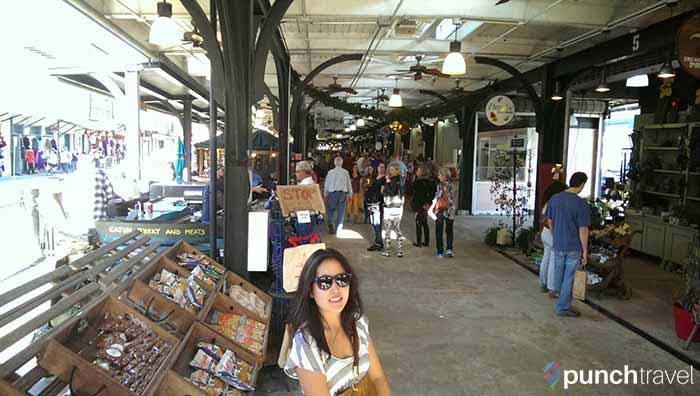 Beignet mix and cans of coffee are also available for sale at the cafe or across the street at their gift store.
Cafe du Monde
800 Decatur St
Saturday Evening
When most people think of New Orleans, Mardi Gras typically comes to mind. During the holiday, New Orleans hosts a lively parade and partying continues at all hours throughout the French Quarter.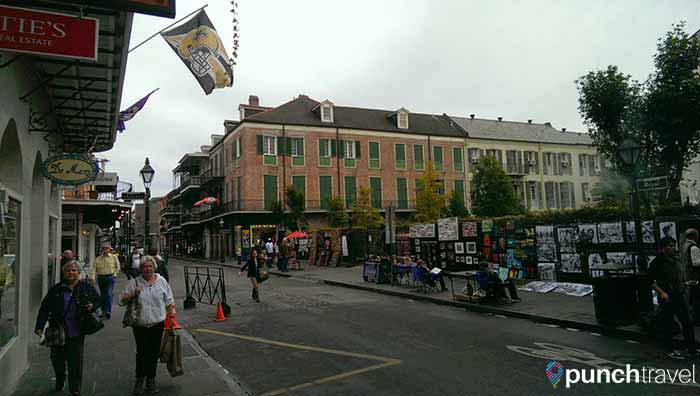 Even outside of the holiday, Bourbon Street is worth a visit to see for yourself. I'll let you be the judge of whether it is a must-see or must-avoid.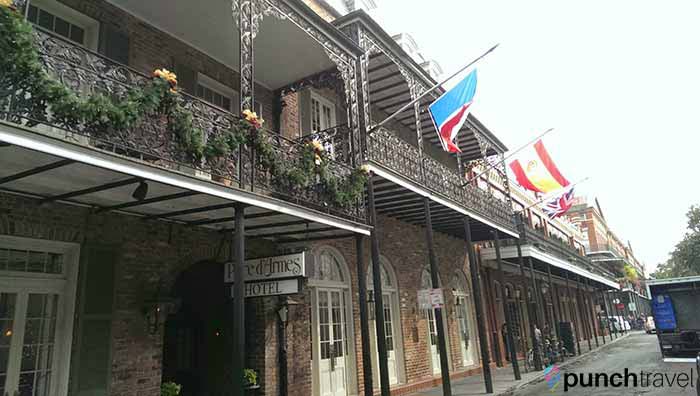 If you do find yourself on Bourbon Street, stop by the legendary Pat O'Brien's, home of the original Hurricane cocktail. The cocktail consists of rum, fruit juice and grenadine. Its name comes from the shape of the glass it is served in, which resembles a hurricane lamp.
Pat O'Brien's
718 St Peter St
Another unique bar nearby is Lafitte's Blacksmith Shop Bar. It is in a completely unassuming, old Creole house. It holds the title of the oldest bar in America, serving drinks since the 1700s! There is no electricity, so drinks are served by candlelight and some say that the place is haunted. Have a drink if you dare!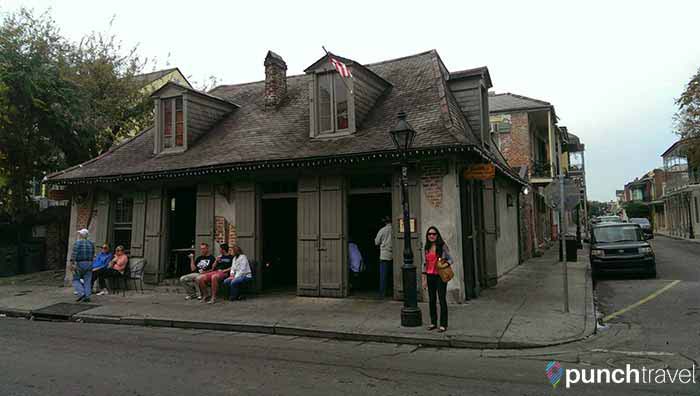 Lafitte's Blacksmith Shop Bar
941 Bourbon St
Sunday Morning
Burn off last night's calories with a leisurely stroll through the Garden District.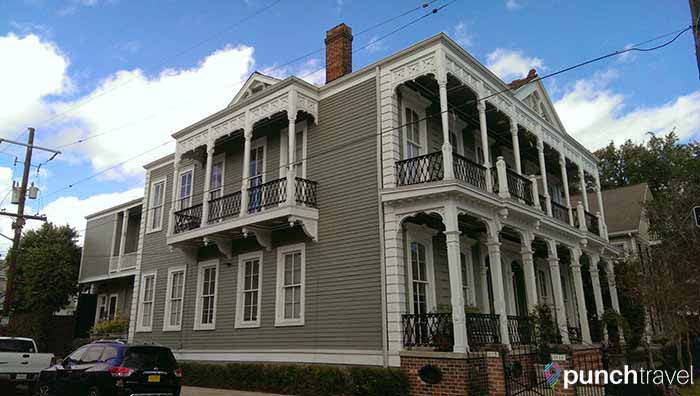 This residential neighborhood near the University of Louisiana features many old, plantation-style mansions.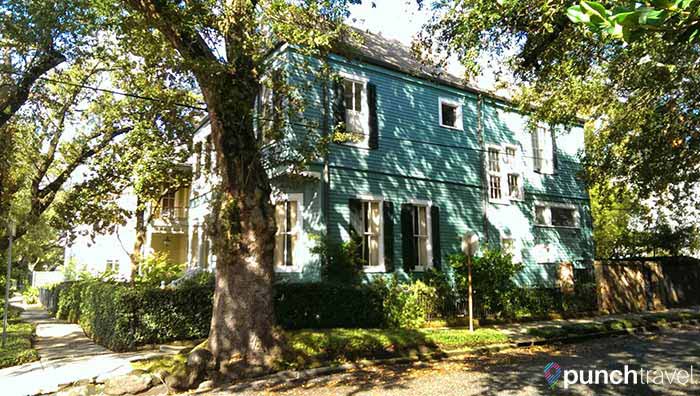 Take the St. Charles Streetcar and get off at Washington Ave.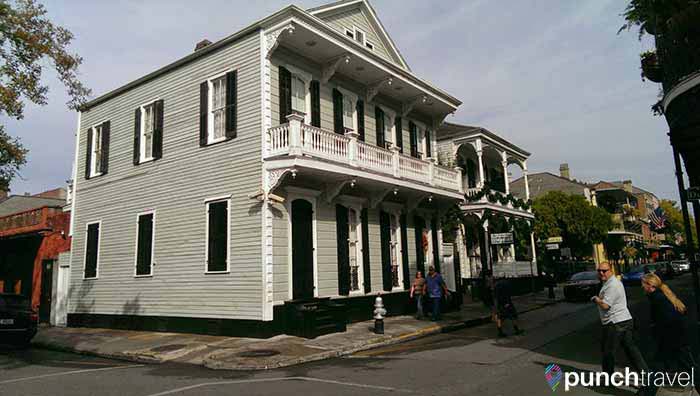 Then continue on foot along St Charles Avenue to Jackson Avenue and wind your way up and down the adjacent streets.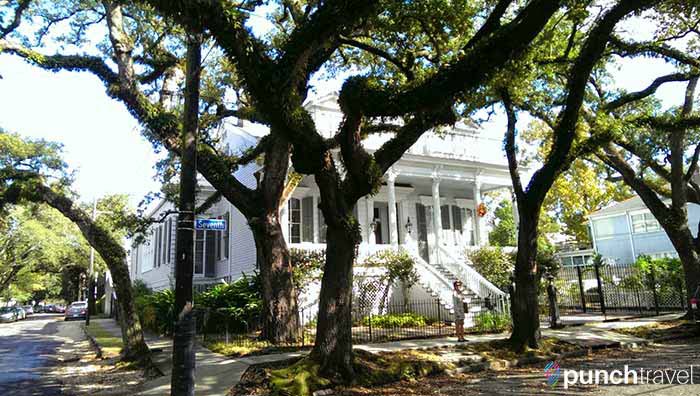 Notable homes to see include:
Buckner Mansion (1410 Jackson Street) – This 22,000 square foot home is one of the finest examples of Southern Antebellum architecture and was also a filming location for the TV show, American Horror Story.
Cornstalk Fence House (1448 Fourth Street): So named for its quirky cornstalk-shaped iron fence, this house is also known as Colonel Short's Villa, who had the fence built for his wife who missed the cornfields of her home in Iowa.
"Benjamin Button" House (2707 Coliseum Street): Though not as impressive as some of the other homes in the Garden District, this house was used as the home of Brad Pitt's character in the movie.
Koch-Mays House (2627 Coliseum Street): A very cute Victorian Gothic style house which was built in 1876 for United States senator and France ambassador James Eustis, it is now home to actress Sandra Bullock.
Archie Manning House (1420 First Street): Home of former NFL quarterback Archie Manning, and his equally athletic sons, Eli and Peyton Manning.
Anne Rice's Childhood Home (2301 St. Charles Avenue): The famous author Anne Rice grew up in this home, and many of the nearby mansions inspired Rice in her novels like, Interview with a Vampire and The Witching Hour.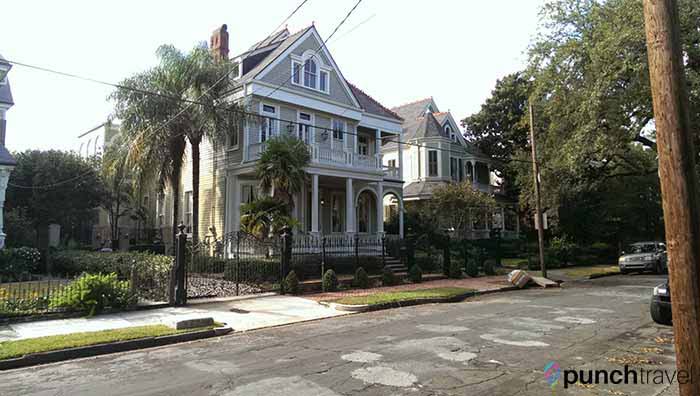 The neighborhood is also home to the most famous restaurant in New Orleans, Commander's Palace. While dining here will put a dent in your wallet, a better alternative is the 3 course for $30 brunch at Coquette. Opened in 2008, Coquette serves creative southern cuisine with a focus on locally-sourced ingredients. Highlights from their brunch menu include the gulf shrimp and grits and their beignets, which rival Cafe Du Monde's.
Coquette
2800 Magazine St
Sunday Afternoon
For a unique experience, head to Mardi Gras World, where all the floats used in the Mardi Gras Parade are stored. Open 7 days a week, you can tour the facility and learn about the history of Mardi Gras in New Orleans, and see how the magnificent floats are built. Tickets cost $19.95 for adults and the tour lasts about 1 hour.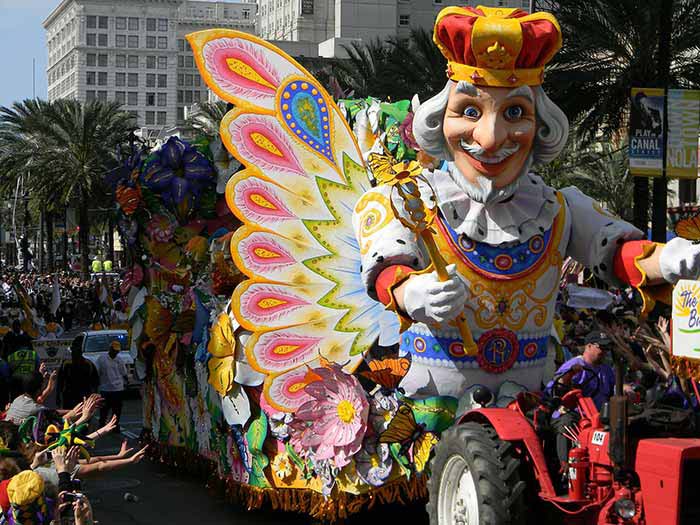 Mardi Gras World
1380 Port of New Orleans Pl
Liked this post? Pin it!