Visiting breweries is one of my favorite things to do when I'm traveling. I love to learn about the history of the brewery and understand how each beer is distinct from others.
Though I've got the process of making beer down pat (hops + barley + water), touring a brewery is always a unique experience, no matter where I go.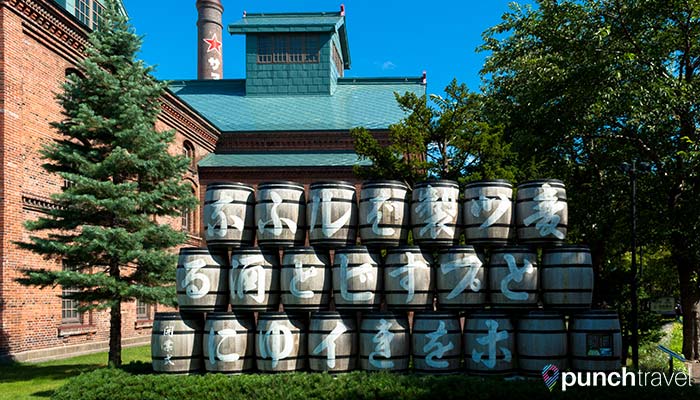 Visiting the birthplace of Sapporo beer was possibly my primary motivation for choosing to come to Sapporo in the northern island of Hokkaido, Japan.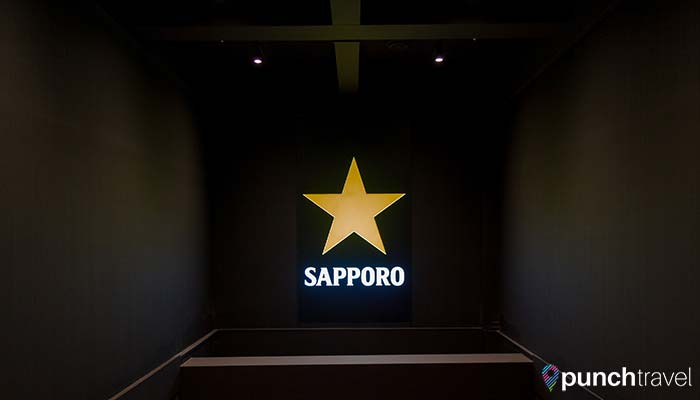 Hokkaido is an ideal location for brewing beer. Its climate is conducive to cultivating hops and barley, and the ease of acquiring ice.
In Sapporo, you can find the eponymous beer everywhere, and the Sapporo Beer Museum is a popular tourist attraction.
The museum is about 20 minutes east of JR Station in the center of the city. It is located in a notable red-brick building which was built in 1890 as a sugar factory. The building later became the site of the brewery in 1903. The museum provides background into the origins of Sapporo beer and the brewing industry in Hokkaido and Japan.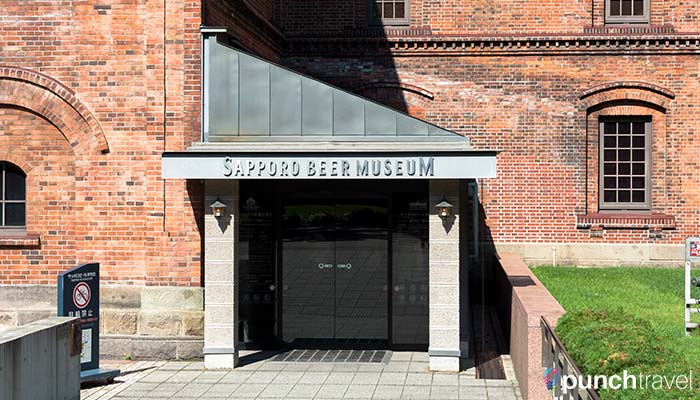 Entrance to the museum is free, but a premium guided tour is available for 500 yen and includes two samples of beer. While I had my heart set on going on the premium tour despite it being only in Japanese, the staff member advised us that the self-guided, free tour would be more suitable.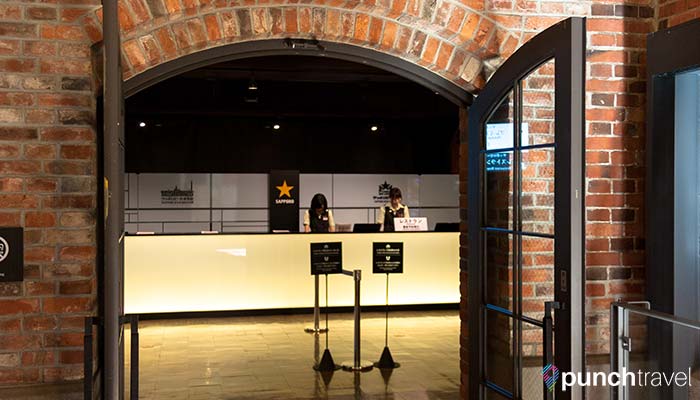 Our self-guided tour started on the third floor around a large Walt pan, for boiling that was used by the Sapporo Beer Factory until 2003.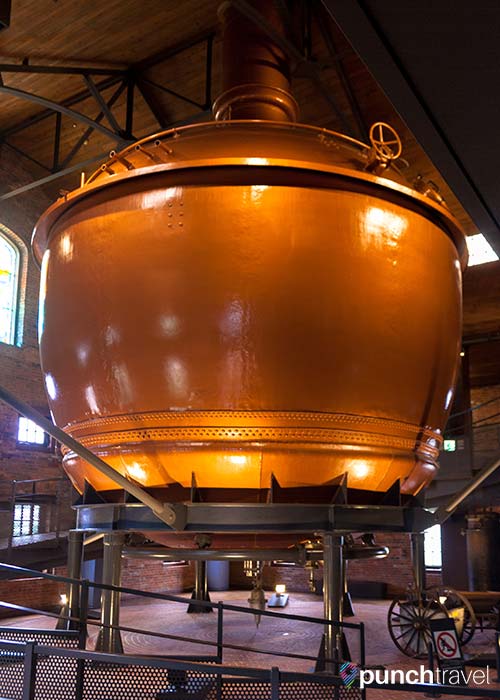 The second floor contains a gallery about Hokkaido and the history of Sapporo beer. We began by watching two short videos (subtitled in English) which provided an overview into beer production and the history of the building. Both of these subjects are covered in greater detail in the displays. Each of the 12 displays are in Japanese but there are explanation cards in English.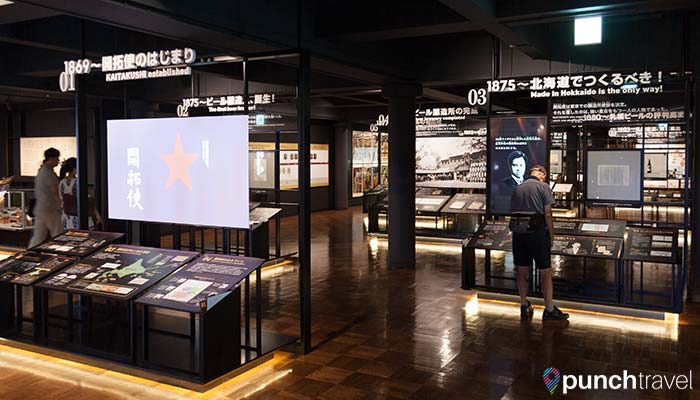 A Brief History of Sapporo Beer
It all started in 1869 with the introduction of an initiative called KAITAKUSHI – a government program to help develop Hokkaido. As part of this program, KAITAKUSHI Beer Brewery, the predecessor to Sapporo Beer, was created. With the help of Seibeii Nakagawa, the first Japanese beer brewer trained in Germany, the brewery began operations in 1876.
A Period of Mergers, Acquisitions and Divestitures
It wasn't until 1886 that Sapporo Beer began to become what it is today. The KAITAKUSHI Beer Brewery moved from the public to private sector and rapidly modernized its beer brewing techniques.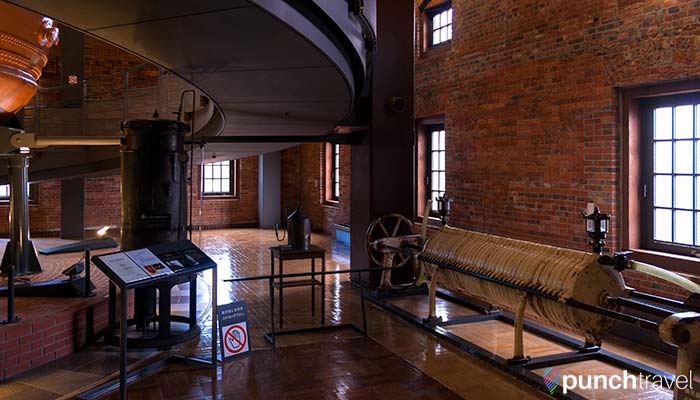 In 1906, Sapporo Beer Brewery Company merged with Nippon Beer and Osaka Beer to become Dainippon Beer.
During World War II, sales of beer were greatly affected and all breweries in Japan were forced to discontinue individual labels of beer in order to limit competition. Following the end of the war, Dainippon Beer was forced to split into two companies: Nippon Breweries and Asahi Breweries.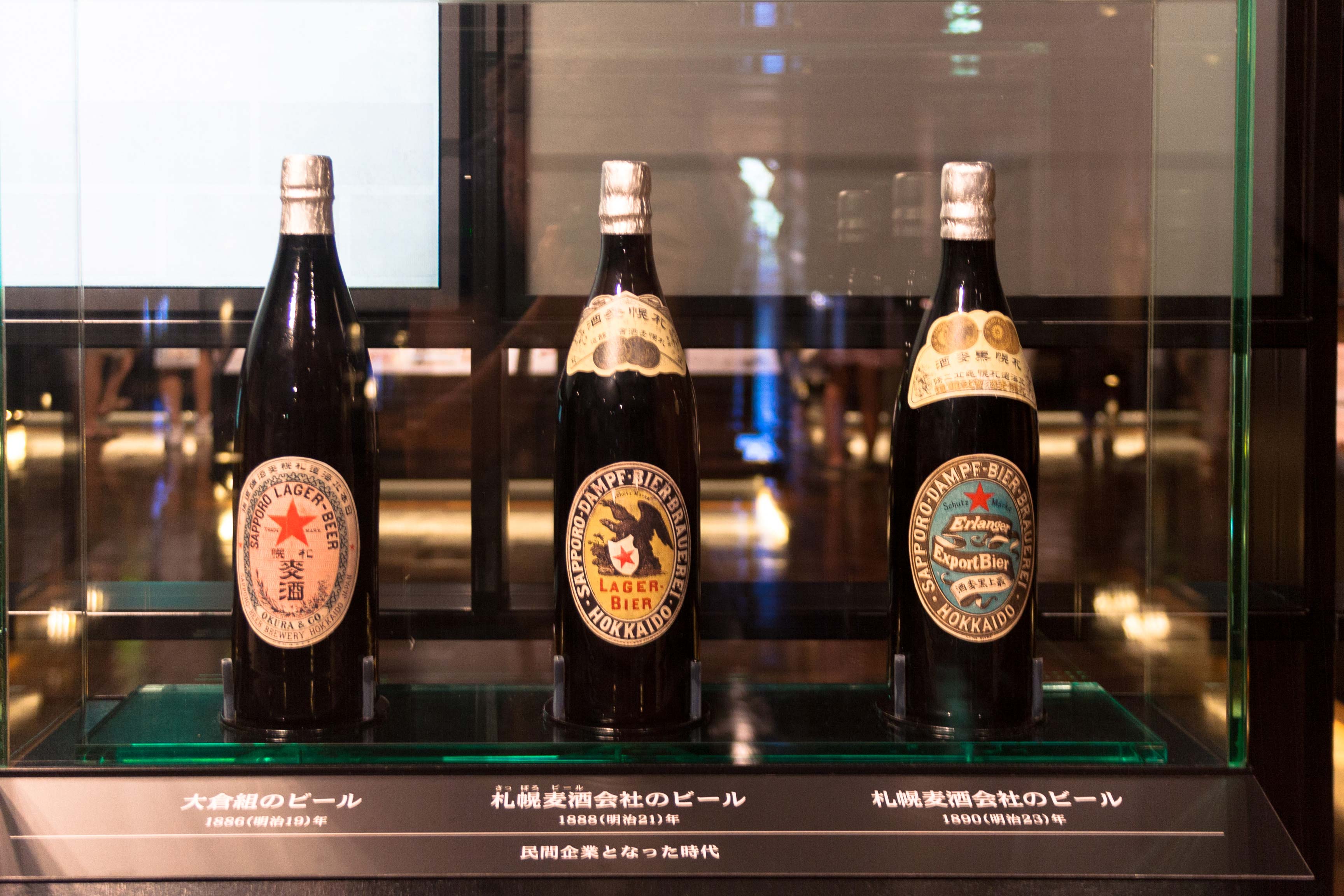 Nippon Breweries inherited the Sapporo and Yebisu trademarks but did not use them, instead launching a new beer called Nippon Beer. However, due to the popularity of Sapporo Beer, the company changed its name to Sapporo Breweries in 1964.
Since then, Sapporo Breweries has come to be known for its Sapporo Draft Beer Black Label. By 1985 it had become the No.1. Japanese beer in the U.S.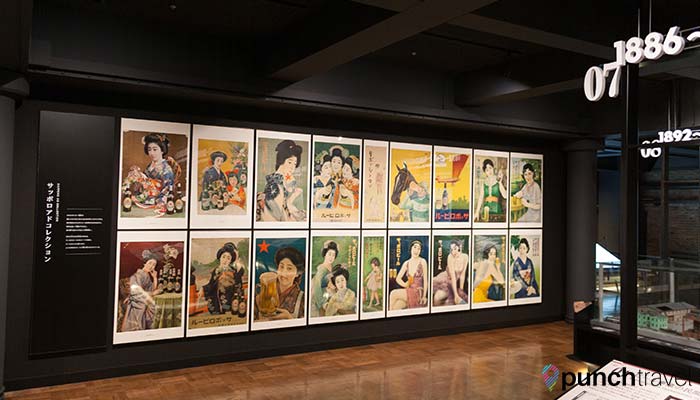 Most of the museum is devoted to the long history of Sapporo Beer. In addition, there is a row of Sapporo Beer advertisement posters from the Meiji period to present day, including this hilarious one.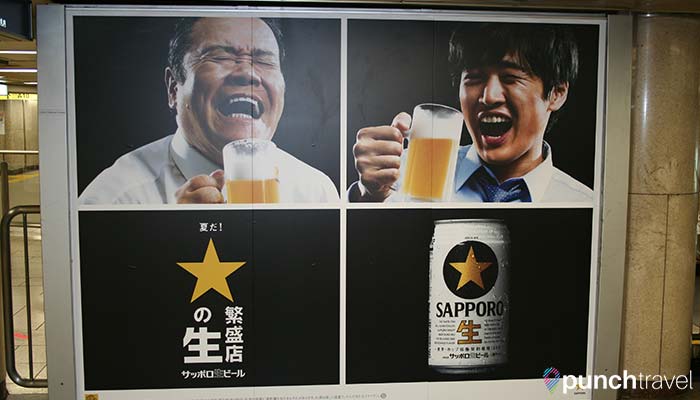 We also enjoyed looking at the old beer labels.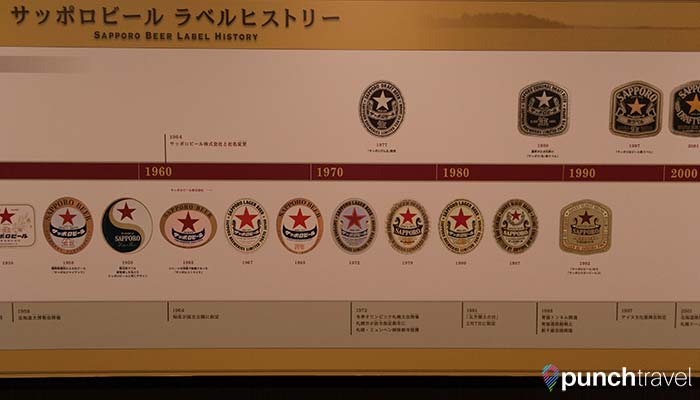 Tasting the Beer
And now the most important part of the tour, the beer tasting!
Upon exiting the gallery we were deposited into Star Hall, the beer hall reminiscent of the KAITAKUSHI era.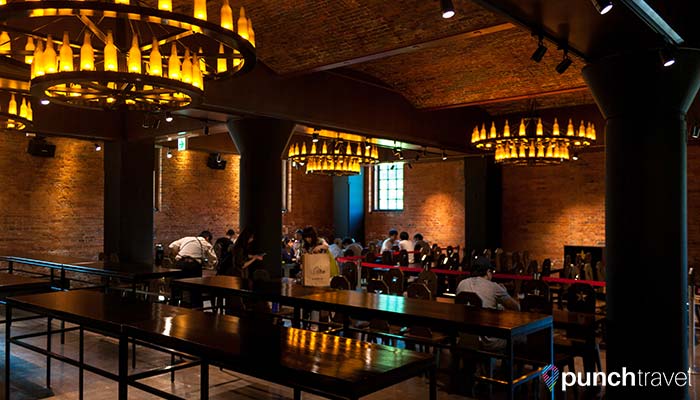 There are three beers on tap:
Sapporo Draft Beer Black Label (200 ¥)- what you get in the stores nowadays
Sapporo Classic Hokkaido Special Edition (200 ¥) – made just for Hokkaido
KAITAKUSHI Beer Pilsner (300 ¥) – made using KAITAKUSHI-era techniques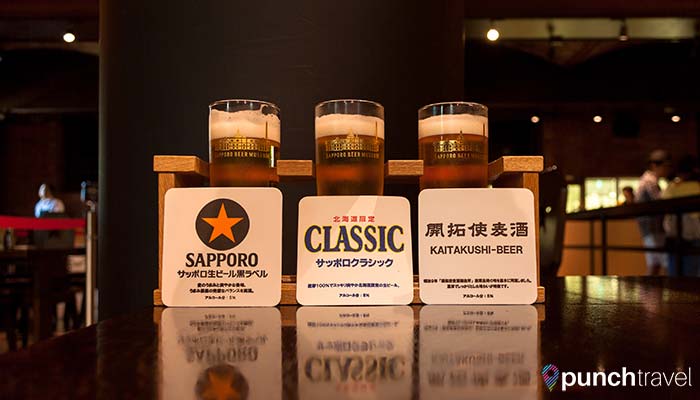 For 600 ¥ we got the three-variety comparison set. We also purchased some local Hokkaido cheese.
How to Pour the Perfect Glass of Beer
When we received our beer, we were a little surprised. Each glass of beer contained more head than we were used to. Working at a brewery, you'd think the bartenders would know how to pour a beer!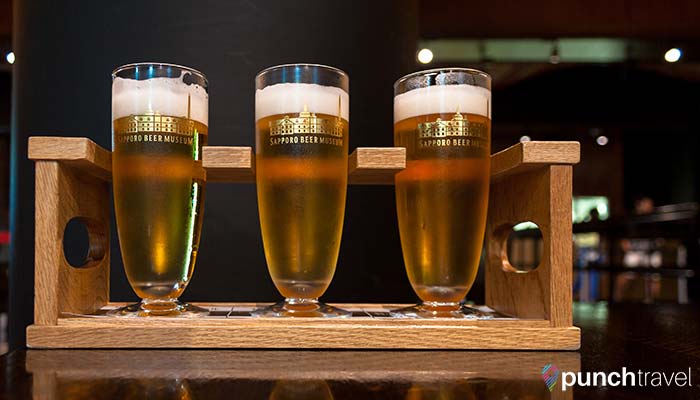 But actually, this is on purpose. The ideal ratio of liquid to foam is 7:3. The foamy head is to seal the aroma and carbonation within the beer, protect the beer from oxidizing, and keep the beer fresh until the last drop.
How did it taste? Well they were all delicious.
I found the KAITAKUSHI beer to be a bit cloudier in taste, and less carbonated. The Draft Beer Black Label had the smoothest finish. The Classic Edition seemed to be lighter. Bottom line they all tasted great!
What to eat at Sapporo Beer Museum
All that drinking can really work up your appetite. Luckily there are several restaurants on site, most of which serve Hokkaido's signature Genghis Khan-style barbecued lamb. That being the case, we had to dine elsewhere.
In the summer, there is also a popular outdoor beer garden.
Although this was more of museum rather than brewery tour, it was still a fun and informative experience. For such a historic beer and brand, it was a unique experience and highly recommended for any visit to Sapporo.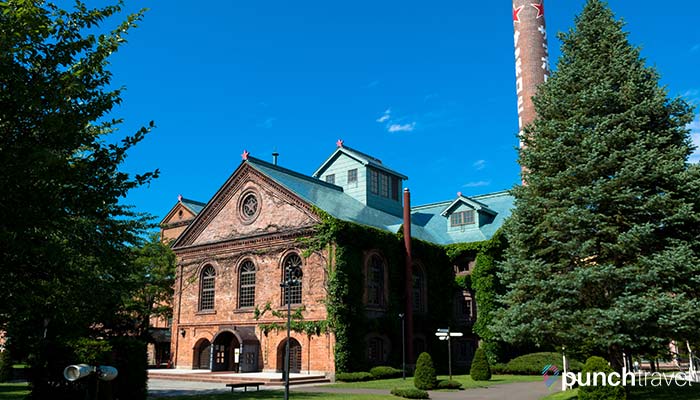 Address: Kita 7-Jo Higashi 9-chome Higashi-ku, Sapporo
Hours: 10:30a.m. – 6:30p.m, every day except Mondays
Fee: Free admission
Liked this post? Pin it!