If you haven't heard of Robot Restaurant, you soon will. It has been called a "sensory overload", "tripping on acid" and "like Medieval Times, but with robots".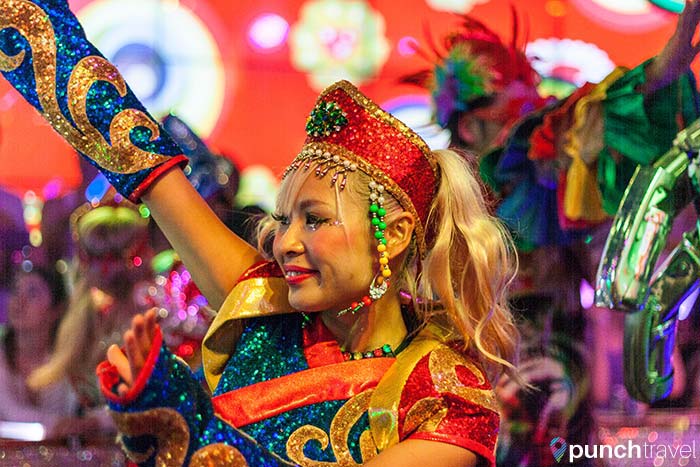 But none of these descriptions can prepare you for the experience that is Robot Restaurant.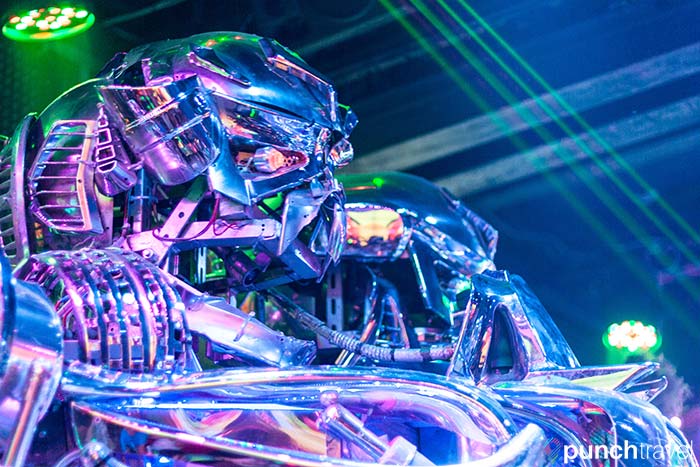 It's currently one of the top-rated tourist attractions in Tokyo, and we recently took a trip down the rabbit hole to see what it was all about.
Only in Kabukicho, Tokyo's Red Light District
It is only appropriate that the Robot Restaurant, a show that promises fembots and bikini-clad dancers, is located in Kabukicho, Japan's largest red light district. A few blocks east of Shinjuku Station, the narrow streets are packed with brightly lit signs advertising love hotels, hostess bars and izakayas.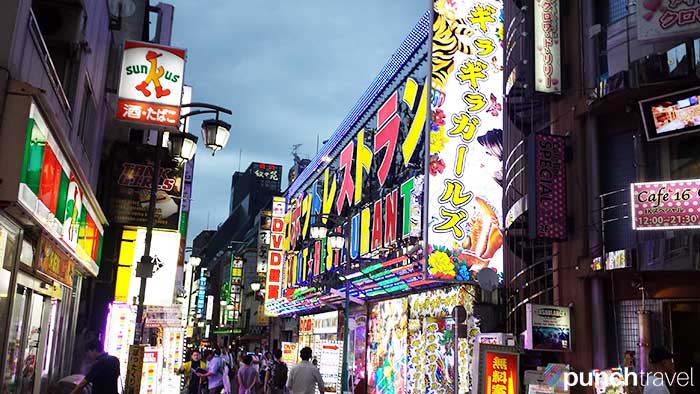 On an entire street block, a huge electronic sign emblazoned with Robot Restaurant assaults your senses. Neon lights cover the entire building and blink furiously. A tireless tune plays over and over: roboto, roboto, restaurant-o, roboto, roboto, shinjuku-yeah!.
Two huge fembots invite you to sit on their lap for a photo opp.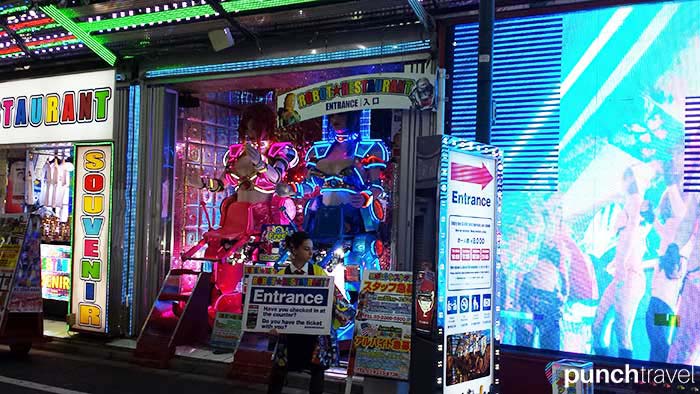 Blasé locals walk by without a second glance at the flashing lights of Robot Restaurant, while tourists stop to gape at the commotion.
Down into the depths of the Robot Restaurant
There are currently three shows a day, each purportedly 90 minutes long. We purchased tickets to the 7:00pm show in advance through a re-seller, but tickets are also available at the door.
We then exchanged our tickets for seat assignments at the ticket counter. There aren't a lot of seats, and often times tour groups take up a bulk of the seat assignments, so arriving early is a good idea.
With tickets in hand, we took an elevator up to the lounge to wait for the show to start.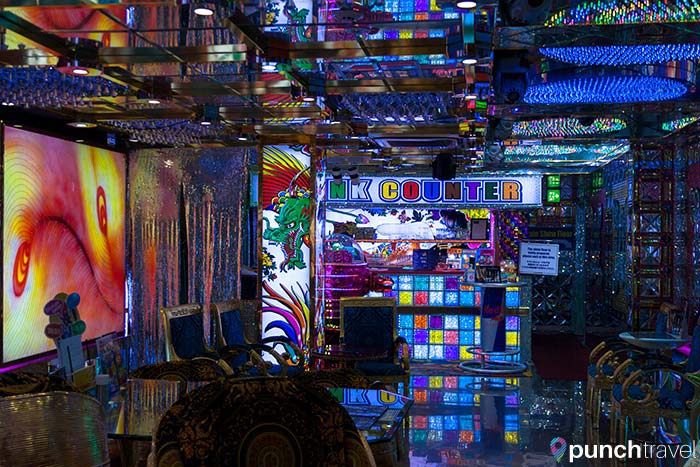 Stepping into the lounge was a visual explosion, and I did not know where to look. The lounge is decorated like Liberace barfed up rainbows.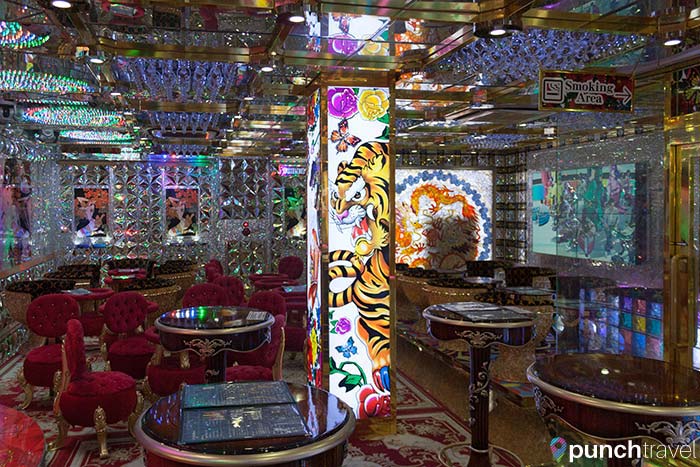 Every inch of the walls floor and furnishings are covered in some sort of spectacle.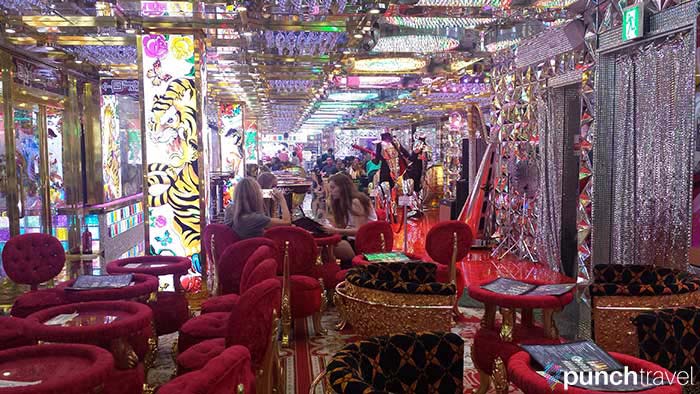 Giant seashell-shaped, leopard-print swivel chairs are awkwardly placed around large glass tables.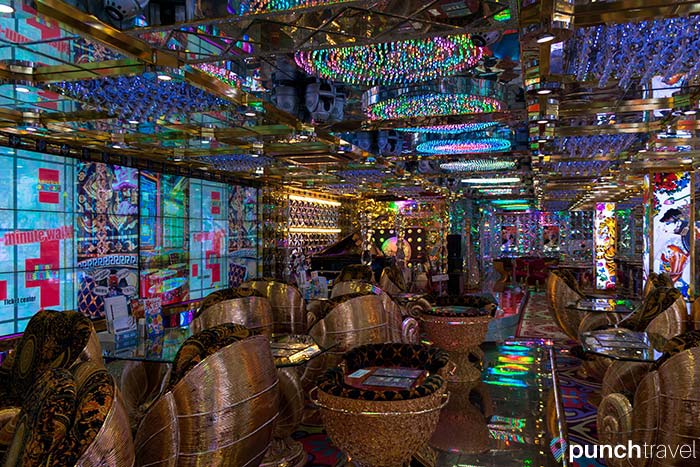 While we waited for the main show to start, two musicians dressed like Daft Punk played pop song covers.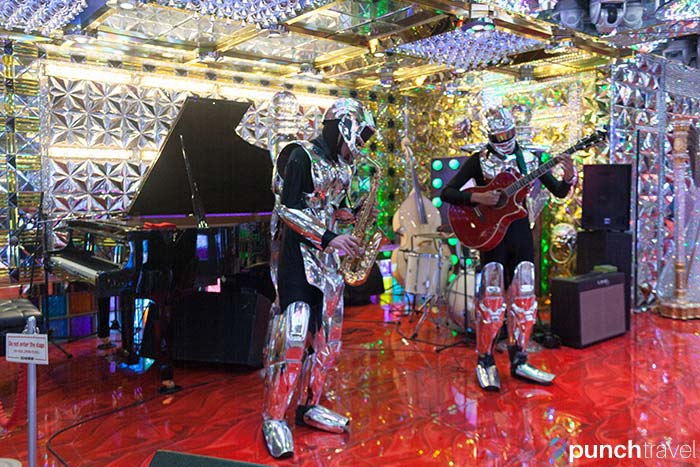 Of course, I had to snap a photo of the bathroom as well.
After spending about 45 minutes in the lounge, we were ushered downstairs to the main stage.
We walked down an endless flight of stairs, turning around and around amidst neon lizards and floral print.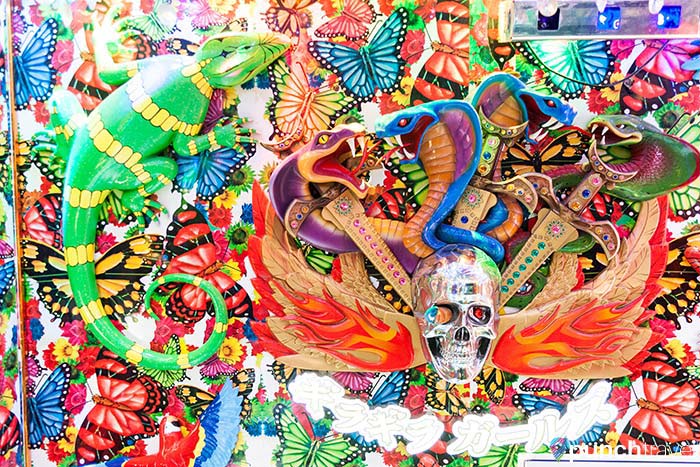 Finally we reached the main stage, at what seemed like many levels below the ground.
My first thought was that the room was really small.
Spectators sit in three rows on either side of the stage, which is really just the floor. The seats are very close together, with a small shared table between the two seats.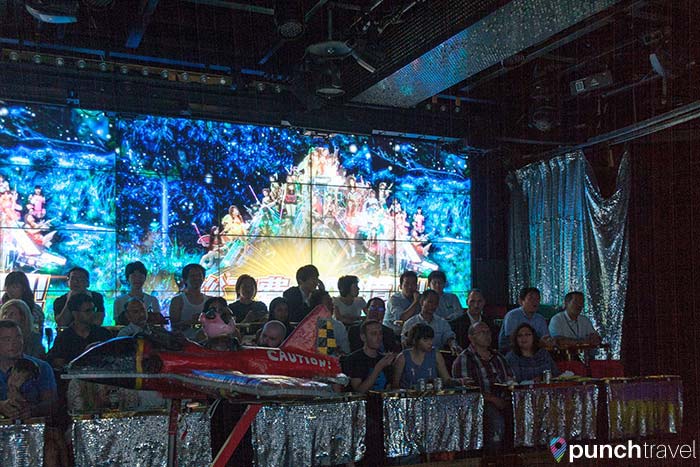 The best seats are in the middle row – close enough to the action, but not so close that the show is in your face.
Lights! Robots! Dinosaurs!
The lights dimmed and the show began.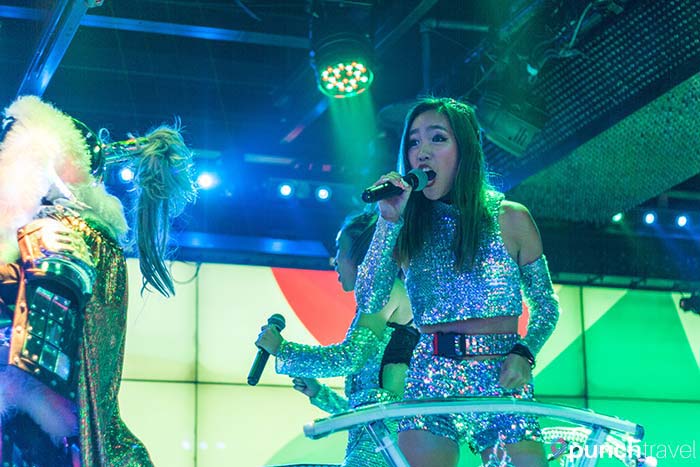 I don't want to give too much away, but I can say for certain that it was like nothing I had ever experienced.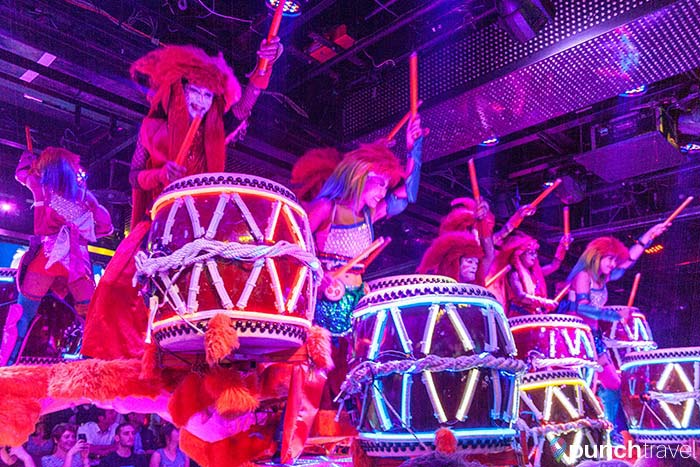 There were robots.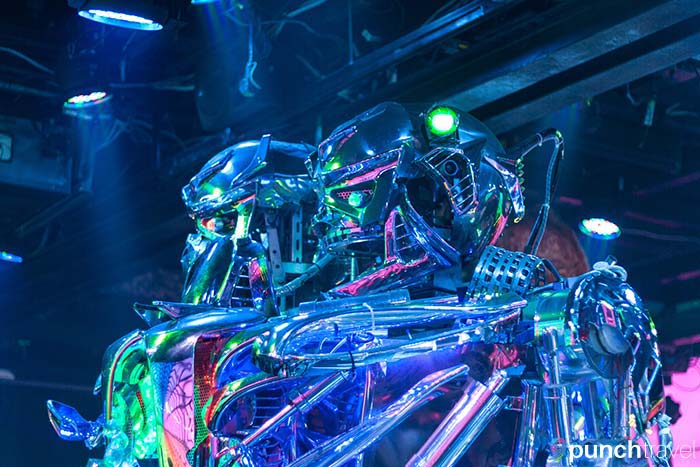 There were crazy costumes.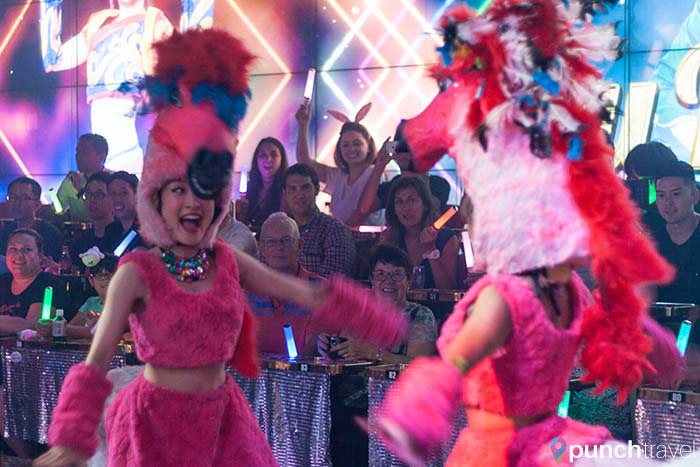 There was a dinosaur.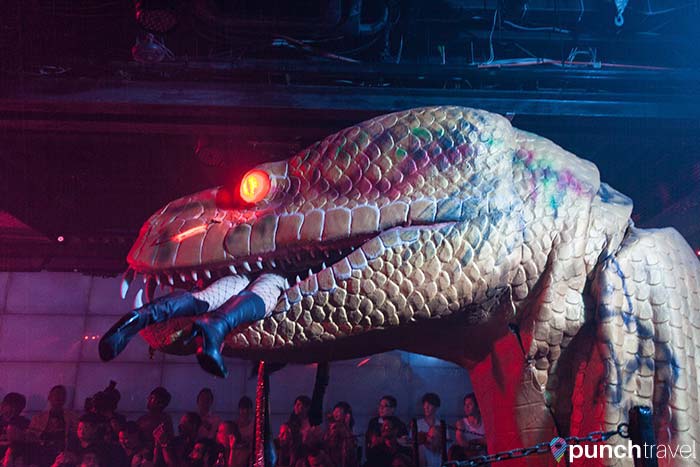 There was this guy.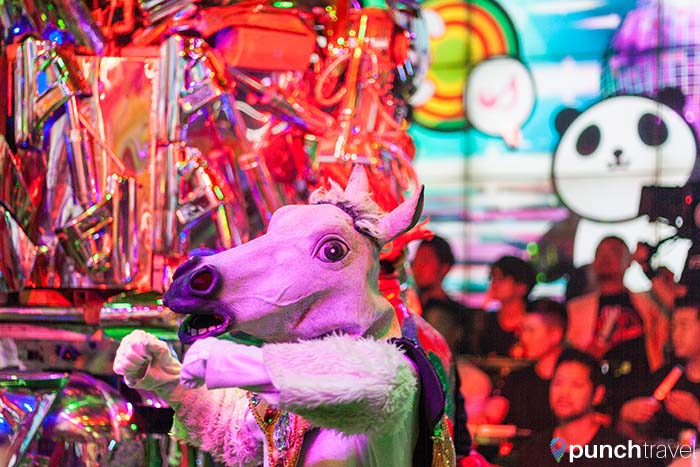 While it was a little "rough around the edges", the cast and the production definitely did not hold back.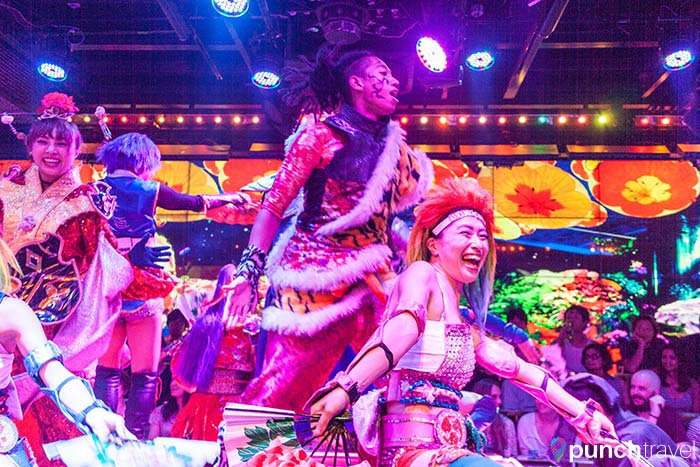 Despite the outrageous, and sometimes downright silly acts they were performing, the cast showed an unparalleled level of enthusiasm for everything they were doing.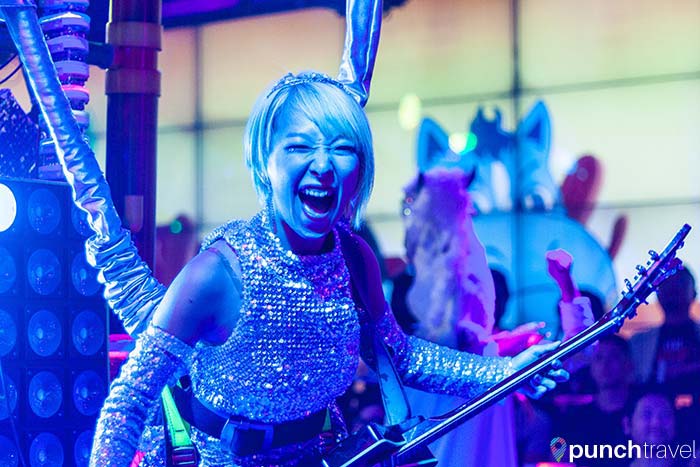 There are three acts, each about 15 minutes long. Though the show is advertised as 90 minutes long, in reality, it is much shorter, because a lot of time is spent resetting the stage.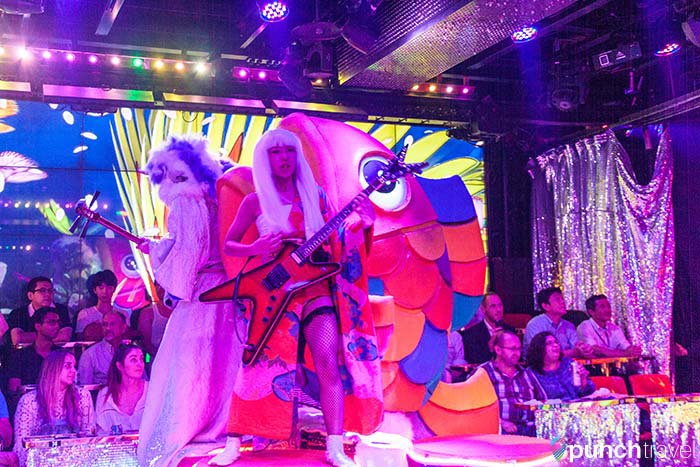 The sheer scale and quantity of the props and robots was impressive. I have no idea where they kept them all.
It's a Restaurant – How's the Food?
I am not sure why they call it a restaurant, because food really falls by the wayside here. For 1,000 yen you can pre-order a bento box to eat during your meal. I wouldn't recommend it though. Other visitors report that the food is bland, and you are better off eating at one of the many restaurants in the neighborhood. Plus it is near impossible to eat in the dark room with dancers and robots inches from your face.
As an alternative, you can order a bucket of popcorn and a beer and revel at the spectacle.
Tickets and Discounts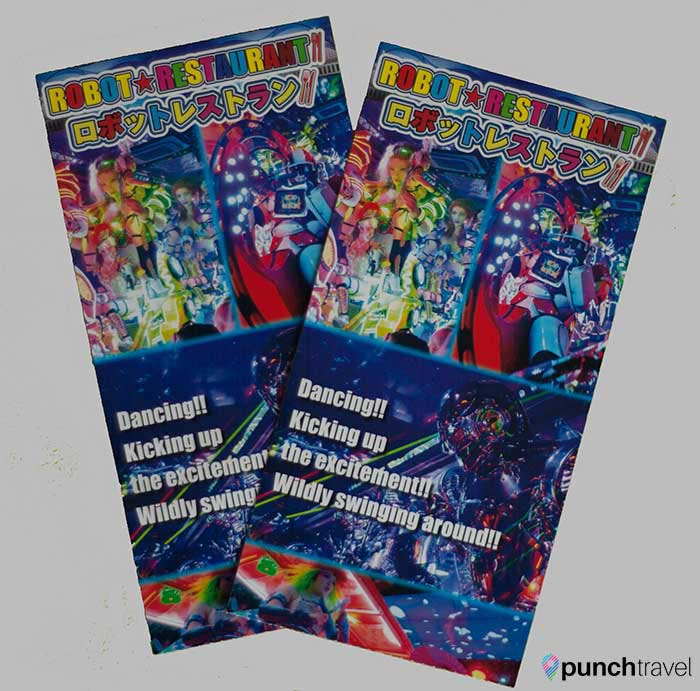 The regular ticket price is 8000 yen but you can find discount offers everywhere. Both Viator and Japanican offer a discounted package that includes one free drink. Many hotels also offer discounts. You can also find coupons in Time Out Tokyo.
So, is it worth it?
At 8,000 yen a pop, and even with discounts bringing the ticket price to 6,000 yen, it is quite expensive for what it is. For that much money I would have expected something more polished, and less like we were watching pop-up performance art.
Nevertheless, the experience is one that you can only find in Tokyo. The robots, the costumes, and the wackiness is a brand of fun that only the Japanese can procure. The Robot Restaurant show is still relatively new, and I expect that in time, it will be worth every penny.
Still not sure? See for yourself.
Robot Restaurant
More info: http://www.shinjuku-robot.com/pc/index.php?lng=en
Address: 1-7-1 Kabukicho Shinjuku Shinjuku-ku Tokyo, Japan
Liked this post? Pin it!